Numerous big US aerospace businesses – including Boeing, GE Aviation, Honeywell Aerospace and Pratt & Whitney – have gained US government contracts to create emission- and sounds-lessening aerospace systems.
The Federal Aviation Administration has awarded $100 million in money to all those firms and some others as aspect of its Constant Decrease Vitality, Emissions and Sounds Program, also called CLEEN, the company says on 10 September.
Other firms to land contracts are Delta Air Lines' MRO store Delta TechOps and British isles organization GKN Aerospace.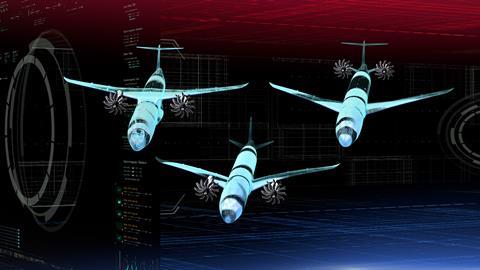 The producers have agreed to match the FAA's $100 million investment decision, bringing the merged predicted financial commitment in the newest and 3rd phase of the CLEEN task to $200 million. The energy will previous 5 a long time.
GE will use its money to enable finance development an "open-fan motor architecture", the Ohio-based mostly motor maker suggests. These designs are related to turbofans, but their enthusiasts are not encased in nacelles and containment rings, but fairly uncovered, letting for larger bypass ratios, which equates to improved performance.
GE will also create technologies associated to electrification, "advanced thermal management" and noise reduction. It will "test new combustor technological innovation layouts that lower nitrogen oxides" and "mature an electric powered device that is a important section of an total integrated-electric electricity-generation system".
In June, the motor maker and partner Safran Aircraft Engines revealed they had been pursuing related technologies as aspect of a advancement programme named Increase (quick for innovative innovation for sustainable engines). They aim for Increase – which is led by GE- and Safran-owned CFM Global – to develop an open up-supporter engine for the 2030s that is 20% extra economical.
P&W's CLEEN attempts contain establishing "an extremely-tranquil engine fan and an advanced combustion program to lessen sound, emissions and fuel consumption", suggests the FAA.
Boeing's contribution involves decreasing the sounds produced by plane wings, landing equipment and motor inlets. The airframer has been pursuing related aims as a result of its "ecoDemonstrator" task.
Honeywell's CLEEN deal phone calls for it to develop a "more-effective fan, combustion process, compressor and turbine to reduce sounds, emissions and gas consumption."
A number of providers, which include Delta TechOps and GKN, will jointly make "erosion-resistant supporter blade coatings", suggests the FAA.
Via CLEEN, the FAA aims to acquire technologies that cut down aircraft sound by 25db and reduce gas burn off 20%, with an in-service focus on of 2031.
The agency kicked off the CLEEN challenge in 2010 and invested $225 million in 1st and next phases. Preceding taking part businesses have bundled Boeing, GE, Honeywell and P&W.