Fortnite's Week 8 Challenges are officially live, and some of the weirdest tasks in the set have players visiting various farm locations on the Battle Royale map. In this guide, we reveal how to drive through the cornfield at Steel Farm and offer the best way to deliver a truck to Sunflower's Farm. Since you may not know exactly where these locations are, we've got all the maps you need.
Drive a car through the cornfield at Steel Farm
As pictured on the map below, you'll find the cornfield at Steel Farm northeast of Colossal Coliseum. If you zoom in far enough, you can actually see the field as a big clearing on the map. Our best advice is to head to the gas station directly south of the field (the dark bunch of pixels on the map) and hope a car spawns there. If it doesn't just try again in the next match.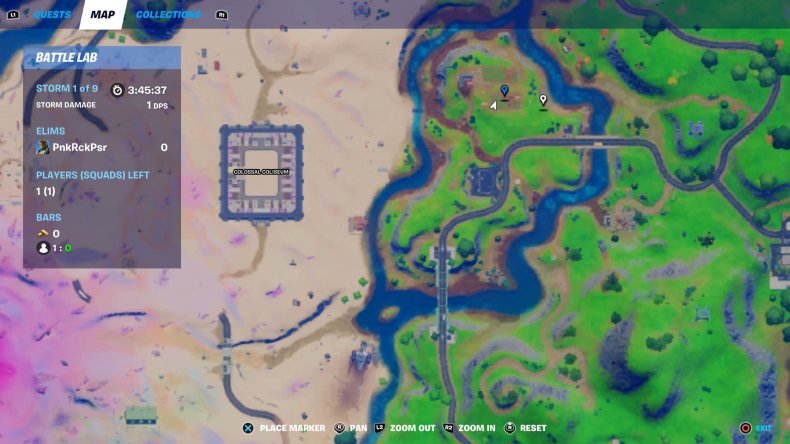 While we used a truck in this particular screenshot, that won't work for finishing the challenge. As long as you have some kind of car though, just drive through the cornfield to earn yourself an easy 20,000 XP for your Season 5 Battle Pass. In many ways, the most frustrating part of this challenge is getting the car to spawn at that gas station. If it refuses to work you can always check other Gas Stations or named locations on the map to find one. Given that vehicles have a limited gas tank, however, we're suggesting the closest possible spawn.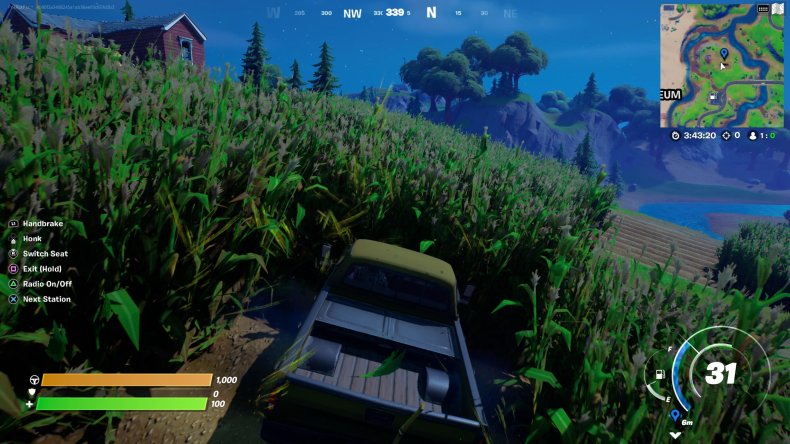 Deliver a truck to Sunflower's Farm
Sunflower's Farm is a bit of an enigma because it's never been referred to in the past and isn't a named landmark or location. That being said, our best guess for the location of Sunflower's Farm is here, directly north of the Orchard Farmers Market where you may have previously destroyed apple and tomato produce boxes in a prior challenge.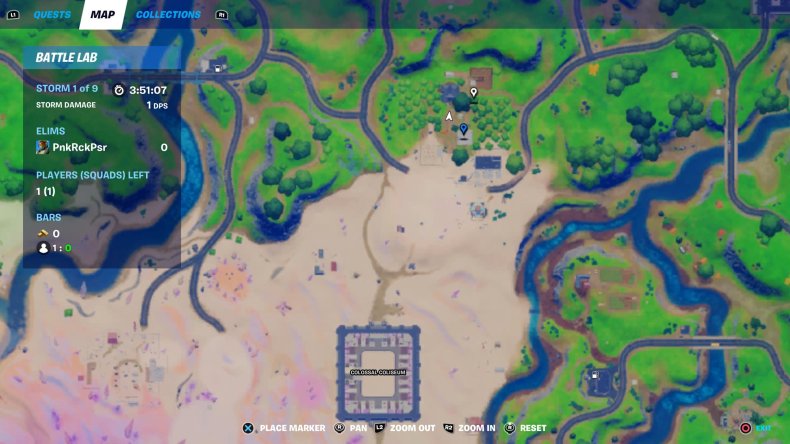 Just like Steel Farm before it, there's a gas station pictured on the map that can potentially offer a very easy avenue to getting a truck. As you can see, it's southeast of your desired destination. Just like last time, however, the number and types of vehicles that spawn in most spots are random, so it may take a few matches before you find the setup you're looking for.
We assume pickups won't work, so you'll need to find a big semi that doesn't have a lock on it. Once again, it's possible you may find another truck in your travels at another gas station or in the middle of a named location. This is what it looks like when you get there. You may need to bring the truck to the fields out back for challenge progress to trigger. Do it right and the easy 20,000 XP is yours.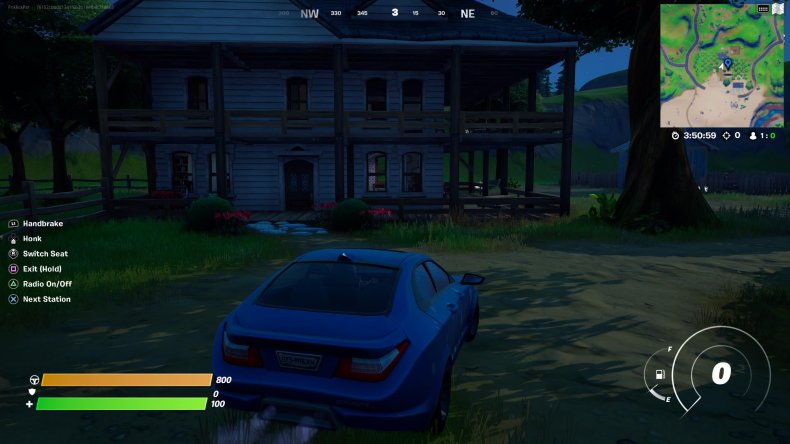 Fortnite Week 8 Challenges
Driving cars through cornfields and delivering trucks to Sunflower's Farm account for just two of the eight new challenges going live in Fortnite on Thursday. Here's the full list of Week 8 Challenges for those who've yet to check out their updated in-game quest log.
Destroy apple and tomato produce boxes at the Orchard Farmers Market (three)
Drive a car through the cornfield at Steel Farm
Deliver a truck to Sunflower's Farm
Pistol damage (250)
Collect Gold Bars (500)
Blow up a Gas Pump
Distance traveled Gliding (3,500)
Eat Fish (10) (20) (30) (40) (50) [Legendary Quest]
That's all there is to know about the Steel Farm and Sunflower's Farm in Fortnite.
Fortnite is available now on PS5, PS4, Xbox Series X|S, Xbox One, Switch, PC and Android.
Did you find Steel Farm and Sunflower's Farm using this guide? Which of the Week 8 Challenges is your favorite? Tell us in the comments section!